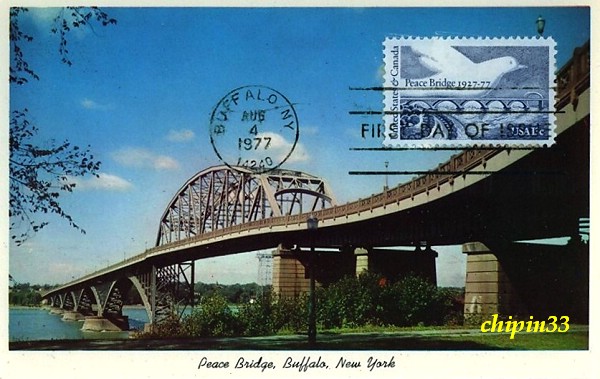 Stamp Issue : 1977-08-04
Peace Bridge is an international bridge between Canada and the United States at the east end of Lake Erie at the mouth of the Niagara River, about 20 kilometres upriver of Niagara Falls. It connects the City of Buffalo, New York and the Town of Fort Erie, Ontario. It is operated and maintained by the Buffalo and Fort Erie Public Bridge Authority.
The Peace Bridge consists of five arched spans over the Niagara River and a Parker through-truss span over the Black Rock Canal on the American side of the river. The total length is 1,768 m. Material used in the construction included 1,067 m of steelwork, 9,000 tons of structural steel and 800 tons of reinforcing steel in the concrete abutments. The Peace Bridge was named to commemorate 100 years of peace between the United States and Canada.
It was constructed as a highway bridge to address the needs of pedestrian and motor vehicle traffic which could not be accommodated on the International Railway Bridge, built in 1873.