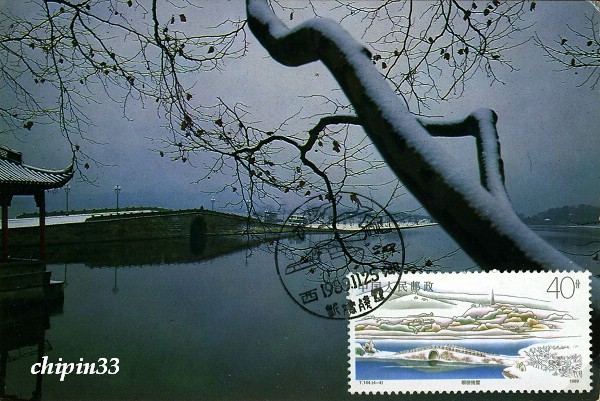 Stamp Issue : 1989-11-25
Broken Bridge in the West Lake, is a famous fresh water lake located in the historic center of Hangzhou, in Zhejiang province of eastern China.
It is a recovery bridge with a single arch. The most romantic scene of the ten must-see around the West Lake is the Melting Snow on the Broken Bridge. The stone-arched Broken Bridge is where the characters of a famous Chinese folktale, Xu Xian and a beautiful girl, who is actually a white snake, first met and fell in love with each other. After a snowfall, when the snow on the more exposed side has melted, with the shaded side remaining white, it looks as if a long white belt has been ripped apart on the bridge, thus earning the name "Melting Snow on the Broken Bridge".