Stamp Issue : 1935-05-01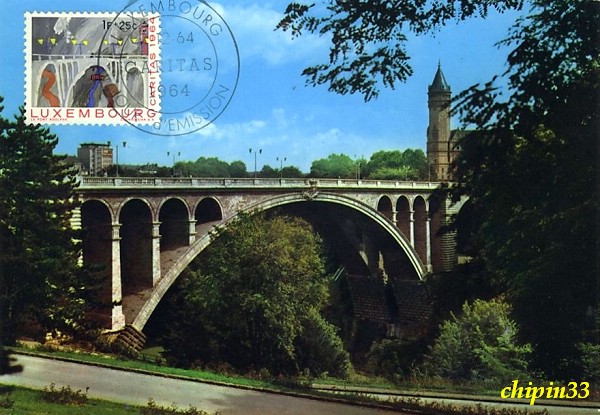 Stamp Issue : 1964-12-07
Adolphe Bridge is a stone arch bridge in Luxembourg City, in southern Grand Duchy of Luxembourg. It has become an unofficial national symbol of sorts, representing Luxembourg's independence, and has become one of Luxembourg City's main tourist attractions.
The bridge 153 meters long features a large double arch with a span of 85 meters overhanging the Pétrusse valley 42 meters below. With a width of 17.2 meters, the bridge is connected via 4 communication lines with 3 of them connecting to train stations, and the other going to Ville Haute bus line, accompanied by 2 pedestrian walkways.
Adolphe Bridge was built between 1900 and 1903. Although it is now over 100 years old, it is also known as the New Bridge by people from Luxembourg City. The "old bridge" in this comparison is the footbridge, which was built between 1859 and 1861.
阿道夫大橋是位於盧森堡大公國南部盧森堡市的一座石拱橋,已經成為盧森堡非官方的象徵,代表了盧森堡的獨立,也是盧森堡市的主要旅遊景點。
大橋長153公尺,由一個大型雙拱以85公尺跨度越過42公尺下面的貝特流斯河谷。橋寬17.2公尺,有4條公交線路通過,其中三條通往火車站,還有一條是通往上城區的巴士專線,另有兩條人行道供行人使用。
阿道夫大橋建於1900年和1903年,雖然現在已滿100多年歷史,仍被盧森堡市民稱為新橋,相對於另座興建於1859年和1861年之間的步行橋為「老橋」。